Established in July 2020, the Ranger Roundtable is a collaboration between three partner organisations: the International Ranger Federation, The Thin Green Line Foundation and the Universal Ranger Support Alliance. Together, we host online discussions designed to raise the professional profile of and support for Rangers as essential frontline conservation workers. Originally, it emerged in response to the immediate impacts of COVID-19 on Rangers, their communities and Protected and Conserved Areas, as well as ongoing efforts towards the Chitwan Declaration.
The Ranger Roundtable has two forums:
1) Focus Sessions: aimed at leaders from global development, health and conservation organisations.
2) Webinars: aimed at Rangers and Ranger sector leaders.
Ranger Roundtable Focus Sessions
The Roundtable Focus Sessions bring together leaders from the Ranger sector and global development, health and conservation organisations. This forum is breaking down traditional silos and opening new collaborative solutions to the Planetary Emergency. These are private, invitation-only events which focus on global issues like climate change, biodiversity loss, zoonotic diseases and connecting the dots between Rangers and Natural Capital accounting.
Special thanks to participants from organisations such as:
World Bank, UN Development Programme, UN Environment Programme, UN World Health Organisation, IUCN World Commission on Protected Areas (WCPA), Global Environment Facility Trust Fund.
Past Events
Impacts of COVID-19, Jul 2020 (opened by Dr Jane Goodall and speakers from Indian Forest Service, Kenyan Community Rangers Association and a representative for Brazilian Indigenous Rangers)
Repositioning Rangers, Nov 2020 (opened by Dr Bruno Oberle, IUCN)
The Regenerative Economy, Feb 2021 (with speakers from World Bank and UNDP)
One Health, May 2021 (with speakers from WHO, WCS and Virunga National Park)
Climate Change, Jul 2021 (with speakers from UNEP, IUCN WCPA and Great Bahamas Parks)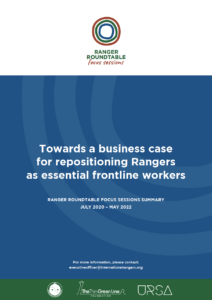 Ranger Roundtable: Webinars
The Webinars are designed specifically for Rangers, Ranger organisations and supporters as we work together on the professionalisation of the Ranger sector in alignment with the Chitwan Declaration.
These public events take place at three points through the year, including during World Ranger Month (July). The Webinars serve a vital function in keeping Ranger to Ranger conversation alive between the World Ranger congresses. They give voice to Rangers, facilitate peer to peer knowledge transfer, spotlight important challenges and support Ranger-led collaboration on solutions.