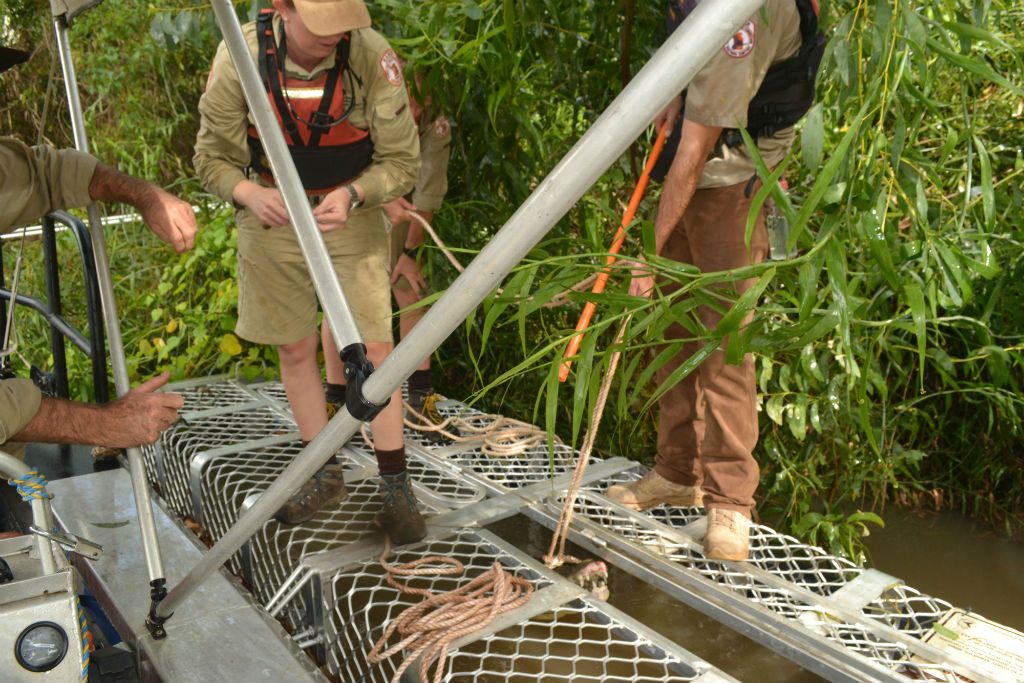 Natalie Chester

Nitmiluk National Park
Australia
What are your main duties?
Natural resource management – Managing invasive plant species (spraying and reducing spread of invasive weeds throughout the Park), fire management (aerial and on-ground prescribed burning and wildfire management), Feral animal management (Tracking and culling of invasive animals such as feral pigs, asian water buffalo, donkeys, horses), crocodile management (surveying/ capturing/ removal of saltwater crocodiles and management of freshwater (Johnson's) crocodiles).
Visitor management- maintaining park infrastructure (signage, fencing, park amenities), walking patrols throughout the numerous hiking trails in the Park, compliance and enforcement, emergency response (first aid and rescue), interpretation (Ranger walks and talks during the peak season).
What is your background? Education and work experience?
I hold a Bachelor Degree in Applied Science (Biodiversity, Environmental and Park Management) and am currently pursuing a Masters degree in Tropical Environmental Management. Previously I have worked on limited contracts as a Park Ranger in Uluru- Kata Tjuta National Park, Kakadu National Park (Both for the Federal Government) and for the past 3 years for the Parks and Wildlife Commission of the Northern Territory (Territory Government) as a Park Ranger at Nitmiluk National Park. I worked as a Summer Trail Crew supervisor in Vermont, USA for the Vermont Youth Conservation Corps (VYCC) and as a Park Attendant in Branbury State Park and Silver Lake State Park through the VYCC's affiliation with the Vermont State Park Service. I volunteered on a part time basis for Parks Canada in Jasper National Park, and worked as a campground attendant for British Columbia Parks at Mount Robson Provincial Park.
How long have you been a park ranger?
I have worked in the Parks field for over 5 years, but have held my current position for 3 years.  
What do you like most about your job?
Everything. The job is so varied that there is always something different happening every day and I just enjoy being outside and am well-rounded enough with my skills and knowledge to be able to apply them to many different situations. That being said, I am continuously learning something new every day either through on-the-job training or off of co-workers who are happy to share their knowledge with me. It is a job where I just wouldn't change it for the world, I enjoy it that much.
What is your craziest/most dangerous/funniest story from work?
A few years ago we had a wildfire threaten the main walking track on Park so we fought it until 4am and managed to contain it enough to save our walking trails. It was a test of knowledge, stamina and ability on our team where we had to think fast under pressure to reduce the risk of fire burning out some of our walks.
What is your most memorable moment?
This wet season (we are in a sub-tropical climate, so have just wet and dry seasons) we trapped and removed a 3.44m male saltwater crocodile from the first gorge- during the wet season, saltwater crocodiles are known to move into the gorge system we manage on Park, which is a part of the Katherine River. We try to trap and remove them from the area as we open up the gorges to swimming and canoeing in the dry season (after we have strictly followed and met the conditions of our crocodile management strategy for the park). We have not trapped a saltwater crocodile since 2010 so it was an eye-opening and exciting experience for us all as a team.
Why is your job important to you?
I believe that it is important to protect and maintain the natural environment, especially more so as the world is becoming more populated and natural areas are threatened by urban sprawl. I feel a personal responsibility to look after the natural environment; unfortunately, too many people take advantage of the earth's natural resources without returning the favour- I like to think that through my career I am ultimately contributing towards protecting/ preserving the environment.