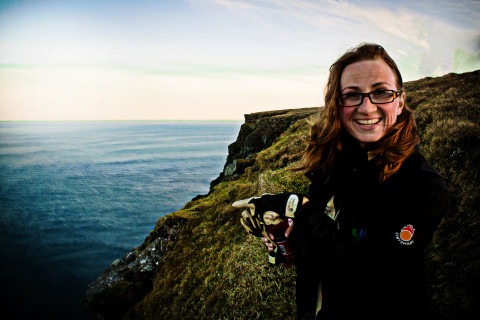 Dagný Bryndís Sigurjónsdóttir
Vatnsfjörður Nature Reserve
Iceland
What are your main duties?
I am mainly in general surveillance of the area and in the maintenance of trails. For a few weeks every summer I have a number of volunteers with me in larger maintenance projects and the making of new ones. Otherwise I'm alone, travelling around with some tools and a lunchbox. Five times a week I take visitors on a guided tour up into Surtarbrandsgil ravine. My work area is very large and I spend a lot of time driving since some days go into surveillance almost throughout the whole southern part of the Westfjords; places like Vatnsfjörður, Dynjandi waterfall, Bjargtangar and Rauðisandur.
How long have you been a park ranger?
2015 was my third summer.
What do you like most about your job?
There are so many things that I like about it. It's a lot of fun to meet new people from around the world and the best things is when you see that your guided tours have made a positive impression on people. I also enjoy maintaining trails and holding a record of species in the area.
What do you dislike about it?
It less fun when you meet stubborn visitors who only want to argue. Having to patch up damages done to the environment is also terrible. Thankfully this is not something you have to deal with everyday.
How do you spend your winters?
I have been living abroad these last four years where I have been studying and working.  It's wonderful to come home to Iceland during the summers, meeting family and friends and enjoying the outdoors and the Icelandic nature.
What is your favourite mountain?
Súlur in Eyjafjörður.
Who is the most famous person you've met as a park ranger?
Homo islandus, the typical Icelander.
What does it mean to you to be a park ranger in Iceland?
A park ranger is somebody who does surveys a protected area and brings about a balance between the natural environment and the visitor.