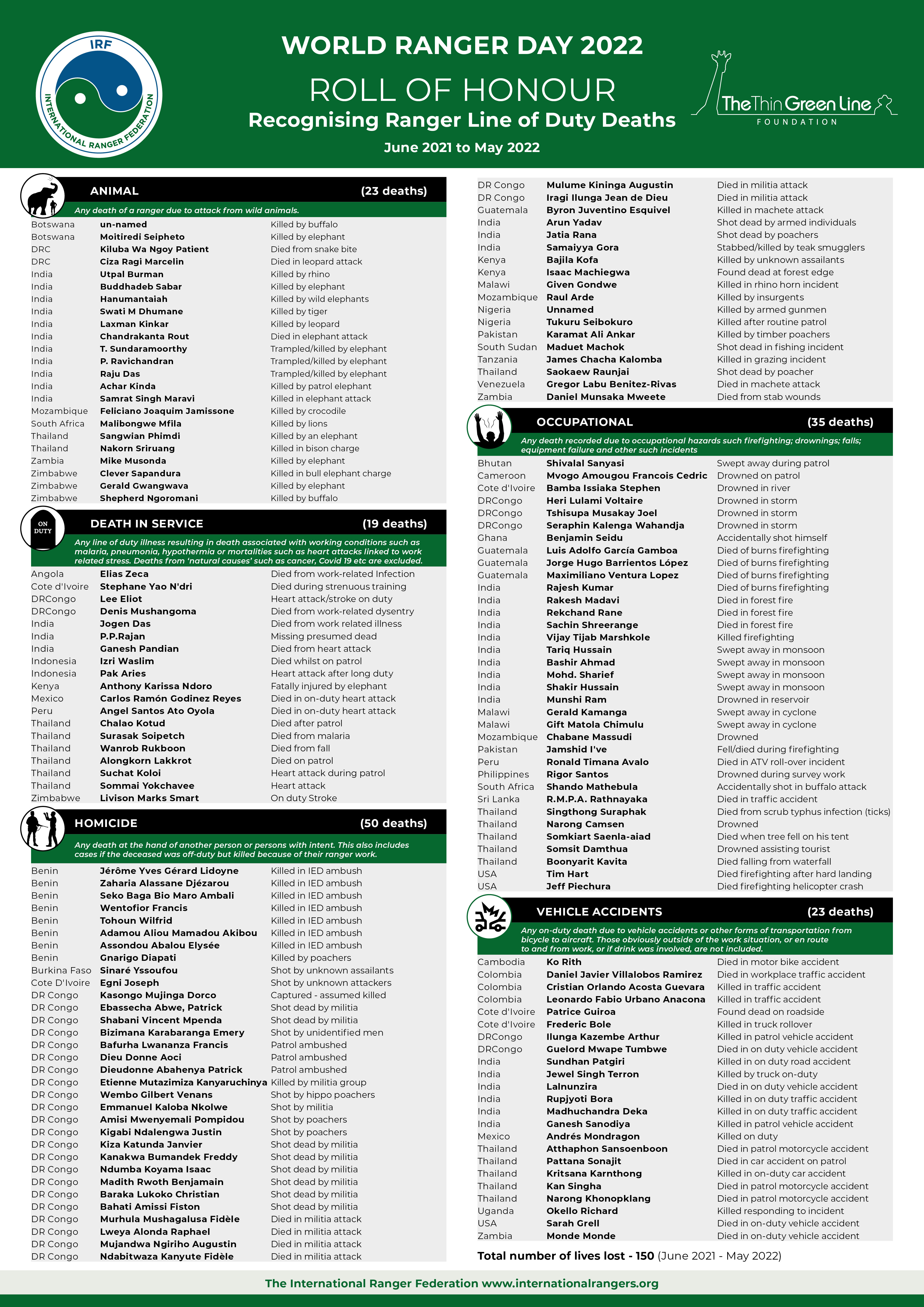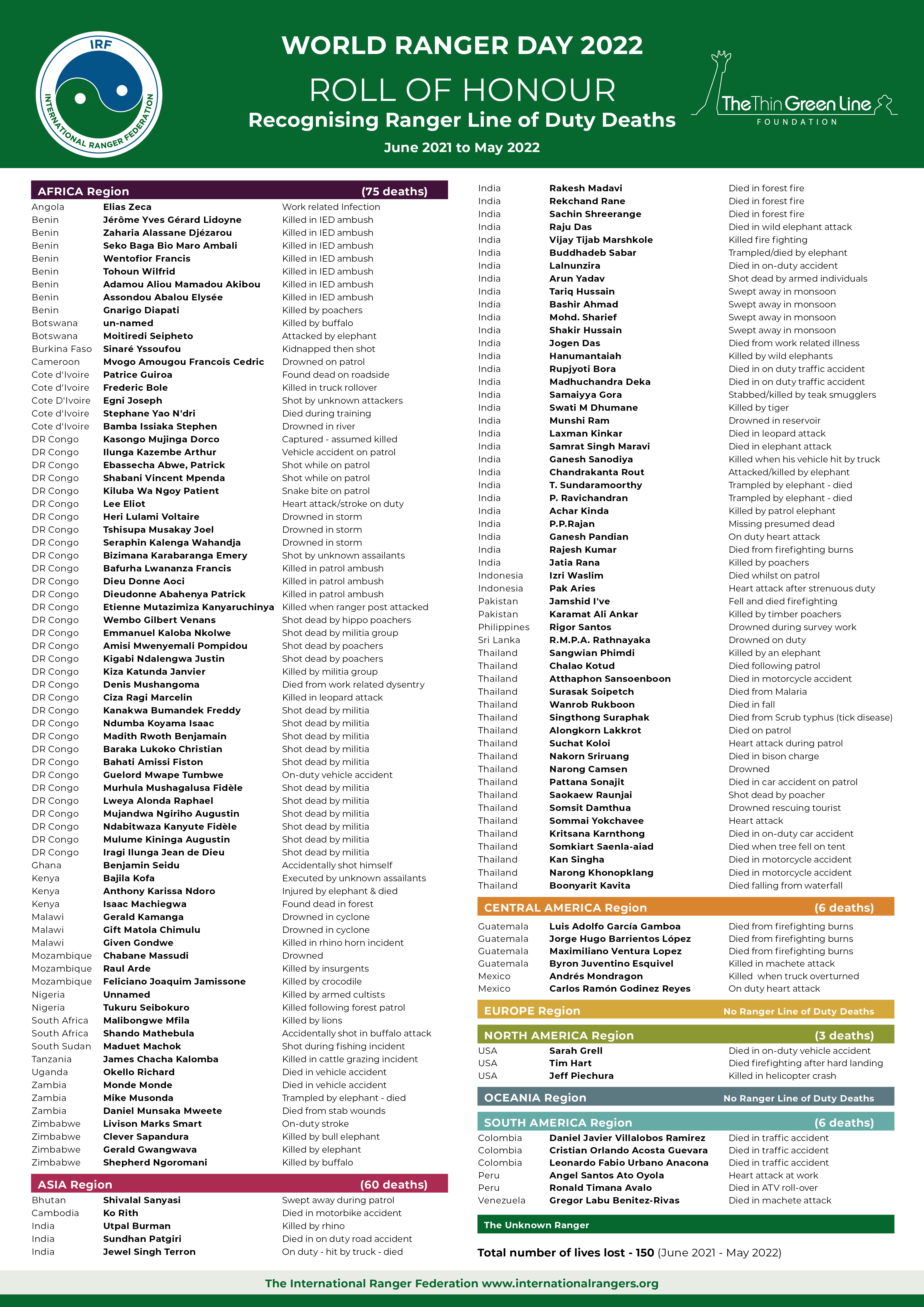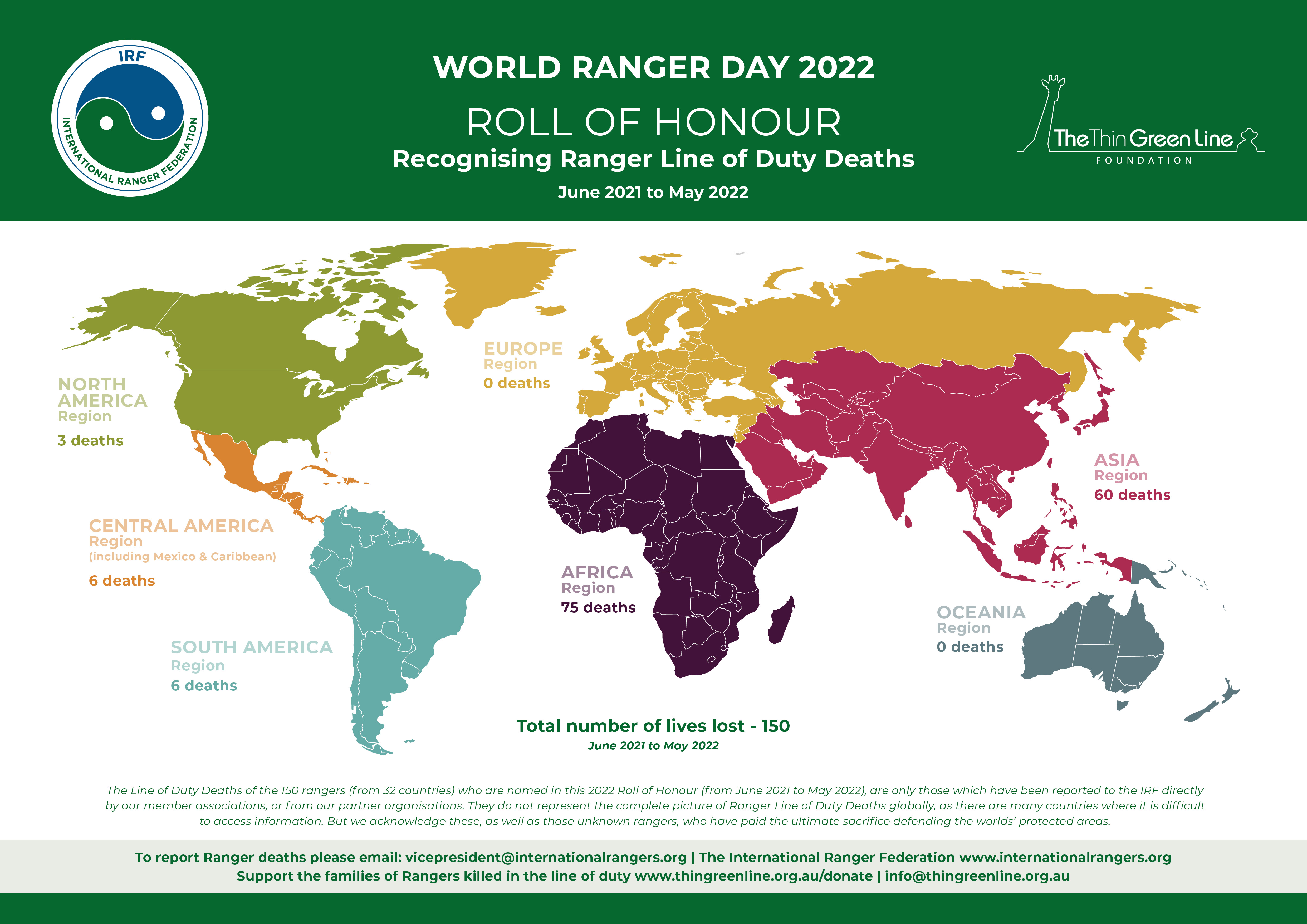 2018 Award Winners
The Dr Jane Goodall Hope and Inspiration Ranger Award
WINNER: Tatiana Espinosa Quiñones (Peru) 
The International Young Conservationist Award
JOINT WINNERS: Dode Heim Myline Houehounha (Benin) & Remmy Papae (Solomon Islands) 
The International Ranger Federation Lifetime Achievement Award
WINNER: *Wayne Lotter (Tanzania) 
*Special mention must be made of Wayne Lotter, who was tragically murdered last year. Such a deserving recipient of this award. Wayne's fight lives on.
Sean Willmore, IRF President and Founder and Director of The Thin Green Line Foundation commented: "Congratulations to the winners of each category and to all of those nominated in the 2018 Global Ranger Awards. Their nominations highlight the Rangers' passion and dedication for conservation and represent the heart and hard work of Rangers who give so much of themselves to conserve the world's wildlife and wild places.
It is always very hard to choose winners with these awards, and it is a difficult task presented to judges, as every Ranger's contribution is vital, and Rangers have the most critical frontline role in conserving wildlife and life systems themselves. On behalf of all Rangers, and I'm sure the extended world community, I thank them for their selfless dedication, perseverance and inspiration in the face of adversity. To the winners, I congratulate you, you should be proud, as you are the best of the best representing the heart and dedication of Rangers the world over."
Dr Kathy MacKinnon, Chair for the IUCN/WCPA, who was part of the judging panel, thought there were "some very good winners" and "was happy to review the applicants" and be part of the process.
Tatiana Espinosa Quiñones, Dode Heim Myline Houehounha and Remmy Papae, along with a representative of the PAMS Foundation on behalf of Wayne Lotter, will receive funds to meet the reasonable travel and accommodation costs for the World Ranger Congress 2019 in Nepal (up to a value of US$4,000) to accept their award at a dedicated ceremony. The Congress will be held between 11-17th of November in the village of Sauraha (on the border of Chitwan National Park).  and manage natural and protected areas such as Rangers, interpreters, people working with local communities, scientists etc. and may include individuals working for government agencies, the private sector, non-­‐government organisations, within local communities etc. Their work must be innovative and demonstrate leadership and a passion, dedication and commitment to the environment.
IRF Lifetime Achievement Award
Young Conservationist Award
Dr. Jane Goodall Hope and Inspiration Ranger Award