World Ranger Day is celebrated worldwide on July 31st to commemorate Rangers killed or injured in the line of duty and to celebrate the work Rangers do to protect the planet's natural treasures and cultural heritage.
Let's pause for a moment to reflect on the courage and sacrifice that Rangers make: by honouring Fallen Rangers and standing with Rangers who bravely undertake their role on the frontline. World Ranger Day is an International Ranger Federation initiative promoted together with its official charity arm, The Thin Green Foundation.
Want to help promote World Ranger Day?
Perhaps you've organised a local event for the day, or you want to print a sign for your social media photos: 'I/We Stand With The World's Rangers'.
We have a wide range of promotional items you can download to help push World Ranger Day along in your area and through your networks.
Download all items as a zipfile zip icon.
View select past WRD highlights, including video messages from HRH Prince William and Dr. Jane Goodall.
The IRF World Ranger Congress brings together Rangers from all over the world, giving them the opportunity to learn new skills, share knowledge and create partnerships. It occurs every three years in a different location, allowing host countries from each IRF region to raise the profile of Rangers locally and internationally. It allows them to showcase their successes, to identify how they're addressing their regional challenges and share their knowledge and skills with colleagues from around the world.
Attending a congress like this is a once in a life time opportunity for many Rangers; meeting colleagues from around the world gives Rangers hope and boosts their morale. Often their jobs are located in remote and isolated areas where they don't have a lot of contact with the world family of Rangers. They don't often have the opportunity to exchange stories and learn from others that may be located half way across the world.
The World Ranger Congress is also a forum for the creation of recommendations on issues that affect Rangers and the work that they do on the front-line. Having these challenges come directly from Rangers makes the message more powerful; the recommendations are presented at conservation forums globally.
The 9th World Ranger Congress was held in Nepal in 2019; the next WRC will be in 2022.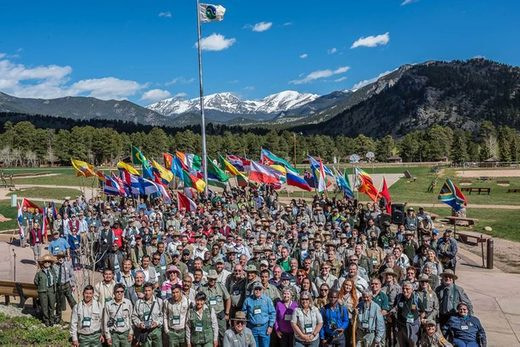 Past IRF World Ranger Congresses

2019 – Chitwan, Nepal
Declarations:  English | Español
2016 – Estes Park, Colorado, USA
Declarations:  English | Español
2012 – Arusha, Tanzania
Declarations:  English | Español
2009 – Santa Cruz, Bolivia
Declarations:  English (1) (2) | Español (1) (2)
2006 – Stirling, Scotland
Declarations:  English

2003 – Wilsons Promontory National Park, Australia
Declarations:  English
2000 – Kruger National Park, South Africa
Declarations:  English (1) (2) | Español (1) (2)
1997 – San Jose, Costa Rica
Declarations:  English | Español
1995 – Zakopane, Poland
Declarations:  English | Español